Shortly before the end of 2020, Rumpke Waste & Recycling teased on Facebook that in 2021 changes were coming, that we'd be able to recycle "more" in the new year. It was obvious (to me, and other recycling nerds, anyway) that the acceptance of #5 plastics in our green bins was around the corner!
What this means for many is no longer having to hunt down a grocery store that takes these items for recycling. And no more hoarding a ridiculous number of butter tubs to use for storing leftovers. These first few weeks of 2021, it's been nice having the option to toss #5-plastic containers into my recycling cart. But, to be honest, I don't think I've taken advantage of this yet. I'm sure I will. Give me time. I can only store so many Greek yogurt containers for future use. This spring-cleaning season will allow me to purge excess #5 tubs without the guilt of sending them to the landfill.
Over the last few years, I've made more conscious choices when it comes to shopping and consuming, refusing plastics when possible and keeping my eyes out for only reusable and recyclable containers and package-free options for groceries, produce and other products. But the challenges of 2020 set me back, as it probably did most eco-conscious folks who are real human beings. With supply-chain issues and household & kitchen staples hard to source, sometimes those of us wanting to hold onto our sanity had to settle for, for example, peanut butter in a plastic jar and not a glass one. I never really viewed it as the end of the world. And certainly nothing to dwell on during a pandemic. Would I LOVE to go plastic-free? Sure. But it's just not something I can do right now. I know I'm not alone in this.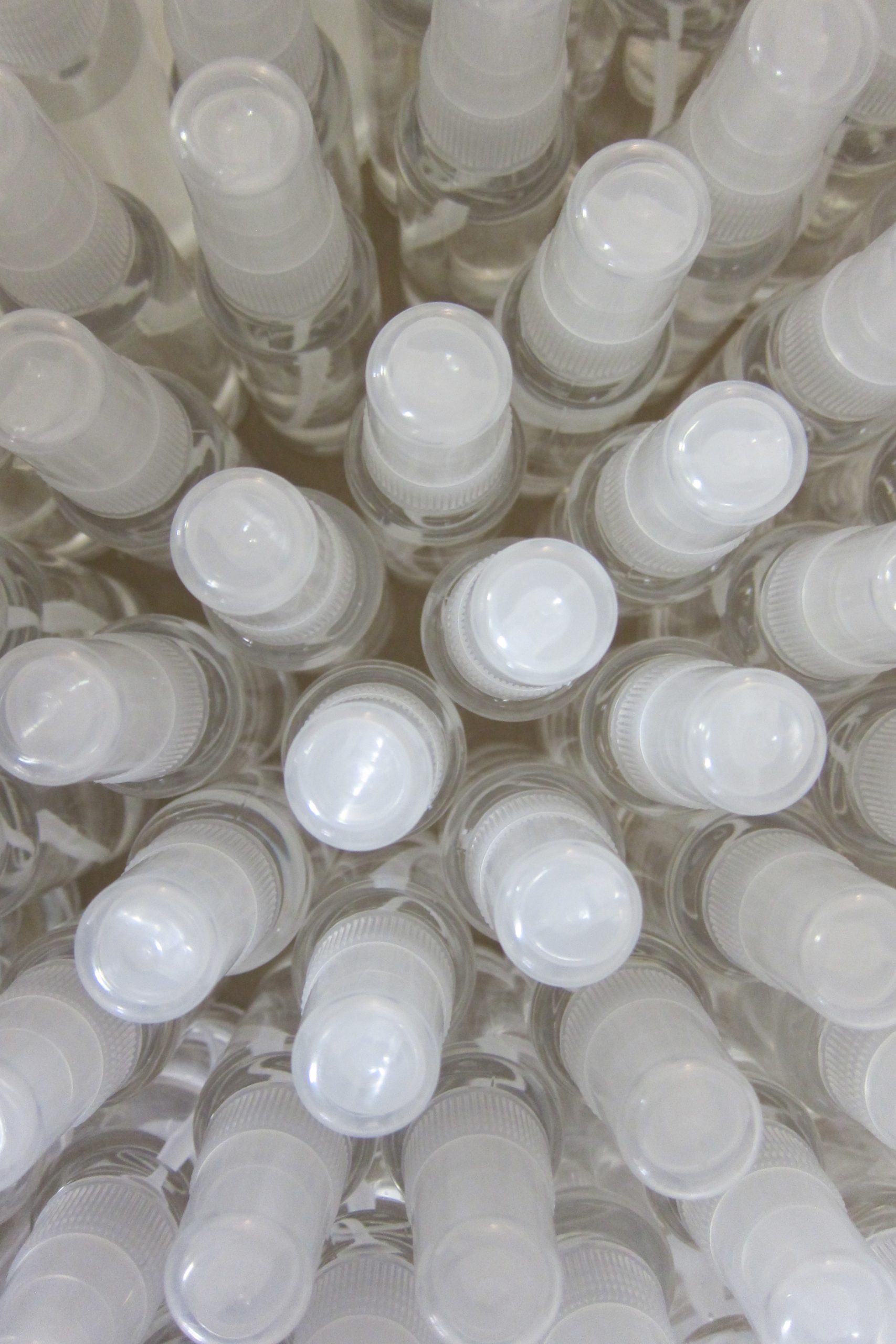 For these similar reasons, I've struggled with going plastic-free with our all of products. While I feel good about our bar soaps and shaving pucks, wrapped with a simple paper label, and even better about our Jitterbug Lotion Bar making a comeback a couple of years ago in an eco-friendly paper tube, I do think about better container options for our liquid soaps and sprays, currently packaged in #2 plastic bottles. This is something I would like to change. And at one point in the "before times" I had made some plans to do so. But again, the supply chain hit us small businesses…BAD. And 2020 was not a time to get super picky about a lot of things, especially packaging.
The most eco-conscious of us can only do so much to lessen our reliance on plastic products & packaging. It's easy to get sucked into stocking your home's cabinets and cupboards with all things plastic-free—but is this a practice that us real human beings can sustain? I'm going to say no. However, it doesn't mean that we can't make real changes or choices that will help lower our reliance on plastics and our household's plastic output.
If you're like me, your 2020 had a lot of slip ups when it came to your path to a low-plastic life, which I mentioned above. All those grocery-store deliveries…with those dreaded plastic bags which I had done such a good job avoiding. All those shopping subs in not-so-eco-friendly packaging. All those single use gloves and masks…
While we aren't entering a time of normalcy anytime soon, and I'm sure there will be lots of those dreaded plastic bags in my unforeseeable future, I am working to control the things that I CAN control.
Use, Re-use. Rinse, Repeat.
For one, I can use and re-use nearly any plastic container out there. Butter-sized tubs are really nice for storing leftovers, craft supplies or jar lids. (I may have a glass-jar habit, which I'll talk about some other time.) I like to use them for stashing nails, screws and other household-repair stuff, where aesthetics don't really matter. And, to be honest, I like that I can accidentally drop one (especially if I happen to being doing work that has my hands dirty or greasy), and I don't have to worry about shattered glass everywhere.
And back to those plastic bags. They really do have a million-and-one uses if you think about it. But I keep it pretty basic, using them to line trash cans and things like that. Do a few searches and flex those crafty tendencies if you're feeling like you want to get creative with your plastic-bag stash. During the farmers'-market season, you might be able to find produce vendors who'd love to take them off your hands, too.
Buy in Bulk Sensibly.
Two, buying in bulk, while it' s something I do for work, is not something I really do for home (we have a small house). But we did start buying a few select items in bulk in 2020 and that has drastically cut back on our reliance on plastic packaging, including the plastic film that comes with toilet-paper packs. That said, buying in bulk isn't always the most eco-friendly option, especially if the product you are using sits around and/or goes to waste. That's definitely something to consider. Please do not become a hoarder on your path to plastic-free.
A smart thing to buy in bulk is liquid soap, which you would then dispense into bottles, pumps or foamers you already own. If you are already a fan of our liquid soaps, we do offer them in half-gallon f-style containers, which have a slim profile making them easier to store than round jugs. Save money, fill your own pumps (rather than buying and re-buying new), and enjoy the peace of mind knowing that you won't run out anytime soon.
Recycle, recycle, recycle
Recycle. This goes without saying, and it was the topic that inspired this post, as I was excited about 2021 and availability of #5-plastic recycling in my community. Yes, these things excite me! Closer to Earth Day, I'm hoping I can compile a list of accessible opportunities to recycle electronics, paints & other hard-to-dispose goods in the Greater Cincinnati area.
Knowing that a good portion of my customer base is probably already into filling their green bin makes me feel better for having some products that have to be (for now, anyway) in plastic containers. It's pretty often that I get questions / comments (and compliments!) from informed customers who are clearly doing the work when it comes to going green in their daily lives. I'm hoping for them and for the planet, I can continue to provide products that can be disposed of and recycled responsibly. And maybe in a not-so-distant future, lessen even more my own reliance on plastics at home and with my work!