I'm big into recycling. Ask anyone who knows me well. It's something I might talk about a little too much. I started recycling as a kid, before curbside pick-up was a thing. The process originated with my family making a habit of sorting our kitchen trash, keeping beer & soda cans separate from the rest.
Then, my dad, brother & I took the hunt for more cans outside. With buckets and gloved hands, we'd walk our hilly neighborhood and the nearby nature preserve in search of recyclables. Beverage cans were a lot heavier then (this was the 80s…) than they are now and we'd make a decent chunk of change selling our collection to the local recycling facility. It wasn't all about the money, of course. We knew it was the right thing to do.
Similarly, composting is something I've always been into and was something learned at home. We never had an official compost bin. It was more of a pile in a far corner of the backyard, which is pretty much what I do today (with some steps in between). I'd say a bulk of my recycling and composting activity starts in the kitchen. And I'd gather that's how it is for most households. (We can't forget about recyclables we amass in our offices and our bathrooms—we can talk about that some other time.)
If you've already got a pretty solid recycling game going on and you're feeding your garden with all sorts of nutritious compost from veggie scraps & coffee grounds, maybe you're looking for other ways to upgrade your kitchen's green factor. I will tell you right now that if you're overwhelmed by all the ideas, products, DIY projects and lifestyle changes that you see on Pinterest, just stop and breathe! Instead, focus on small, sustainable steps to making your home more eco-friendly.
Start by taking a look at what you already bring into your kitchen and ask the following question: "Can this product's packaging be recycled or reused?" You might surprise yourself. A lot of what we already buy for use in the kitchen falls into the YES category. The bottle that holds your dish soap? Recyclable. The cardboard box with your powder dishwasher detergent? Recyclable. Those pickle jars? Recyclable AND reusable! (This is where I confess that most of my drinking glasses were once pickle jars. I also love using jars of all sizes for storing dry goods & leftovers, organizing all sorts of things, and collecting & sorting seeds from my garden.)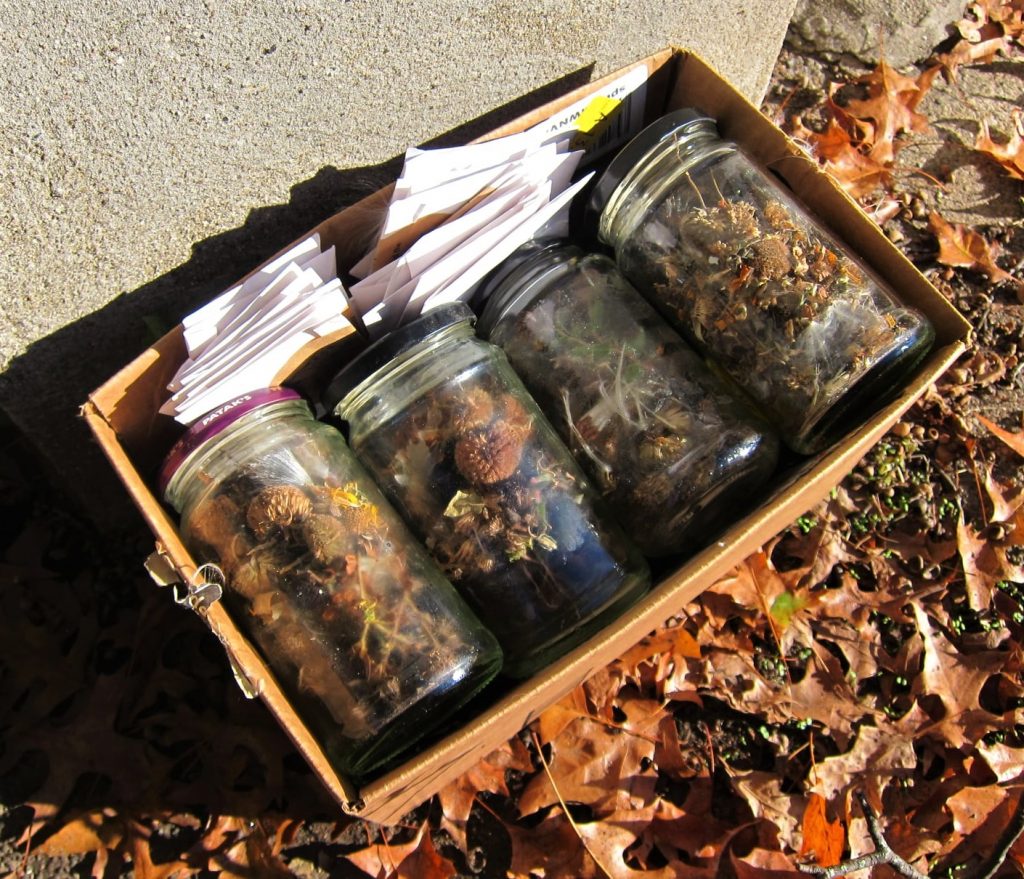 Next, take a look at the lifespan of the products you use. Take stock of items that are single use or have limited re-use opportunities. Especially take note of things that once they are no longer usable must head straight to the trash. Items that can't be recycled. Items that are made from materials that aren't all that eco-friendly and won't degrade anytime soon. This isn't to say to immediately figure out how to replace these items. Use them and dispose of the properly when the time comes. However, between now and trash time, think about what you can do to replace them or avoid your need for a replacement altogether. Again, do not stress about this. And remember, small, sustainable steps make for real, lasting change.
I am by no means "zero waste" (and who, pray tell, really is?) in my kitchen or the rest of my home, but I think I fall under "low waste" and this has been something I've been able to sustain for fifteen years as a homeowner. I figure I'd share with readers & customers some of the things I do in my kitchen to make sure my reduce / reuse / recycle activities outweigh goes in the trash. To summarize what I've talked above above, here are three easy steps you can take:
1. Evaluate what you are already doing right. Give yourself a pat on the back for all the products and packaging you bring into your kitchen that are reusable or recyclable.

2. Find ways to reuse, if you aren't already. Glass jars can always be reused as drinking glasses, as storage containers, as components of crafts & DIY projects. Let them soak in the sink with vinegar and/or dish soap, and labels will peel right off. Sometimes a little elbow grease is needed to remove the sticky residue, but I find that taking a scrubby sponge to it with some extra suds does the trick.

3. Take stock of disposables that you can (over time) replace with more eco-friendly alternatives. Obvious items include paper towels, napkins, dish scrubbers and sandwich bags. But did you know you can also find eco-friendly alternatives to disposable coffee filters, tea bags and plastic wrap?
While we can't help you source everything you need to transition your kitchen into a more eco-friendly one, we can definitely help you find a few items that will help you cut down on single-use items and plastics.
Bar Soap: A Solid Choice for a Greener, Cleaner Kitchen
I will start (of course!) with our Lemongrass Kitchen Soap, I initially crafted this as a way to remedy strong scents that tend to linger on hands after food prep. Think onion, garlic and fragrant spices. Great on food, but not so much clinging to your finger nails the next day. The Lemongrass Kitchen's base formula is mostly coconut oil, creating a hard bar that you can really dig into. Its deep-cleaning lather nixes pungent smells with the help of scrubby, odor-absorbing coffee grounds and citrusy fresh lemongrass essential oil (which is also a great degreaser).
I was inspired to craft this soap after seeing single-use citrusy "drops" that are used to freshen garbage disposals. Why not a product that cleans hands, too? That's why I suggest people wash up over the side of their sink with the disposal and let the soap's lemony lather freshen the blades at the same time.
However, it was a former store buyer who got me hip to the whole idea of using a BAR soap for cleaning dishes. She said she loved to use the bar directly on cutting boards. That it was textured enough thanks to the coffee grounds to help scrub the surface, and she found that while it definitely did a great job cleaning, the natural oils didn't dry out a board's wood surface. From there I had an ah-ha moment, and started not only doing the the same thing with my cutting boards but also scrubbing pots and pans. And from there, I started using the bar along with sponges and brushes to whip up even more lather to apply to dishes, flatware and to my sink & faucets, countertops and appliances. So many uses out of one bar of soap! A bar of soap made from all natural ingredients and wrapped in a simple piece of paper—so long excess packaging and plastic waste! And as a bonus, it doesn't wreck your hands like synthetic detergents can.
Lather with Liquid and Less Waste
I know that bar soaps are now the "new thing" in eco-friendly handwashing, but there's nothing wrong with sudsing up with liquid soap if that's your preference. Look for a liquid soap that is clean & green by using a high quality, concentrated castile made with all natural ingredients. Our vegan liquid soaps, made with mostly extra virgin olive oil, gently clean, rinse well and nourish your hardworking hands. Unlike most commercial soaps that are 95% water, thickened with a variety of ingredients that you really don't need to improve cleaning power, our soaps are highly concentrated and can be diluted further for use in your favorite foamer bottle. Dilute our liquid soap about one part soap to two or three parts water and you'll extend the life of your eight-ounce bottle of soap! While our liquid soaps are a bit thinner than what you might find in most stores, they contain much more actual soap. (Wanna go big? Buy bulk! We offer our liquid soaps in half-gallon jugs.)
Kitchen Soap and Eco-friendly Swaps
Already hip to bar dish soaps and eco-friendly hand washes in the kitchen and looking to up your eco-friendly game just a little more? Consider swapping out two common items in any kitchen: the dish sponge and the roll of plastic wrap. I've seen a lot of DIYs for making your own fabric sponges and beeswax wraps, and decided to call on fellow Cincinnati-area crafters to make these items to complement our Lemongrass Kitchen Soap.
We're excited to bundle our amazing Lemongrass Kitchen Soap with a washable sponge made of natural fibers AND reusable beeswax wrap—and both items are also handmade locally by our friends at Coates & Co and Norwood Makers!
Use the sponge to clean up spills, wash dishes or wipe down the counter. Give it a good rinse after use and let air dry—and when it's gotten a little -too- icky, just toss in the wash with your laundry to get countless uses out of this handmade cloth sponge.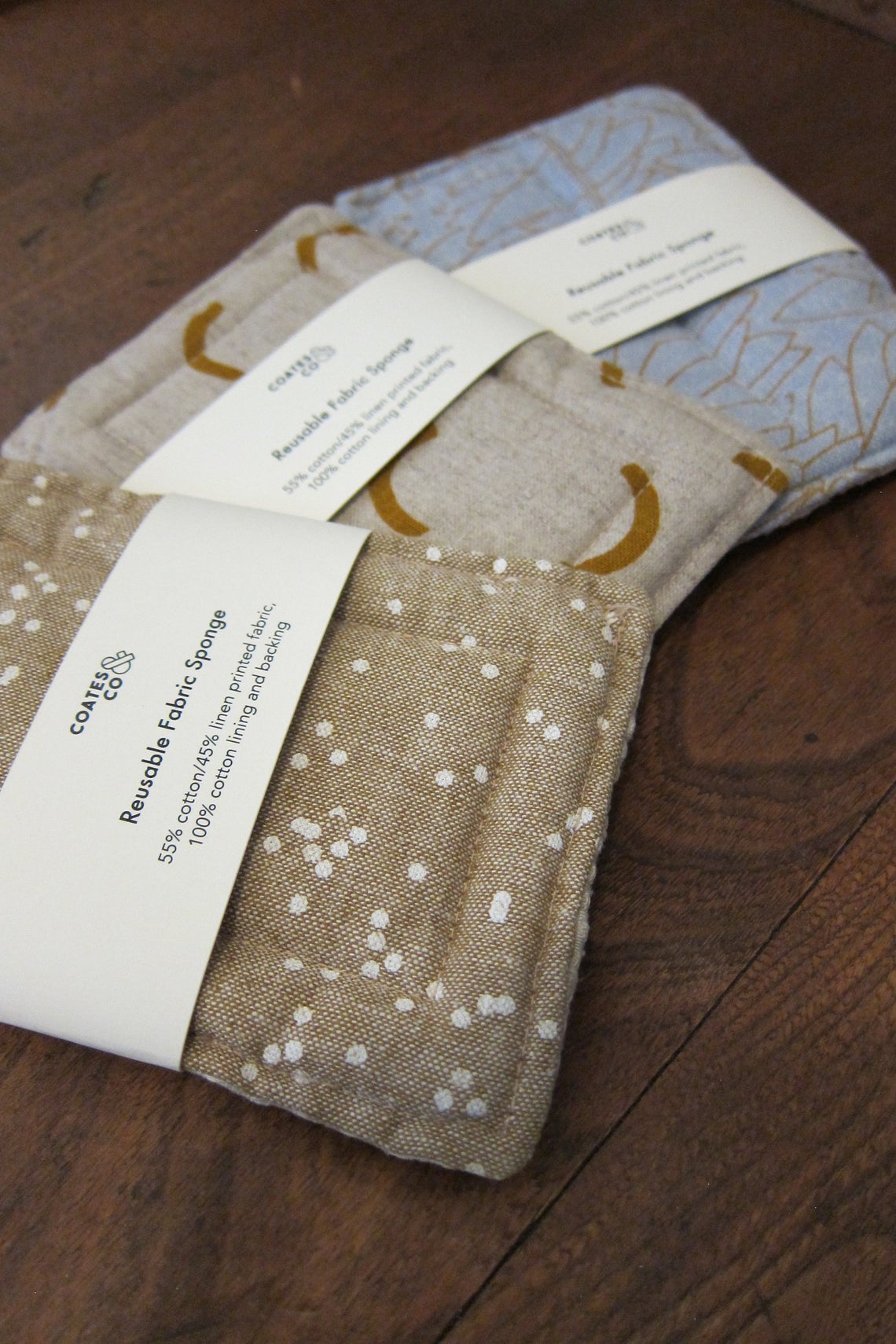 The all natural, plastic-free beeswax wrap crafted by makers in neighboring Norwood, Ohio, is large in size (about 15 x 15 inches), made of reclaimed natural cloth is water resistant and can be used to cover bowls, jars or pots, to wrap sandwiches or bread, and more. Simply wipe down in between uses & let air dry before storing, and never fuss with wasteful plastic wrap again!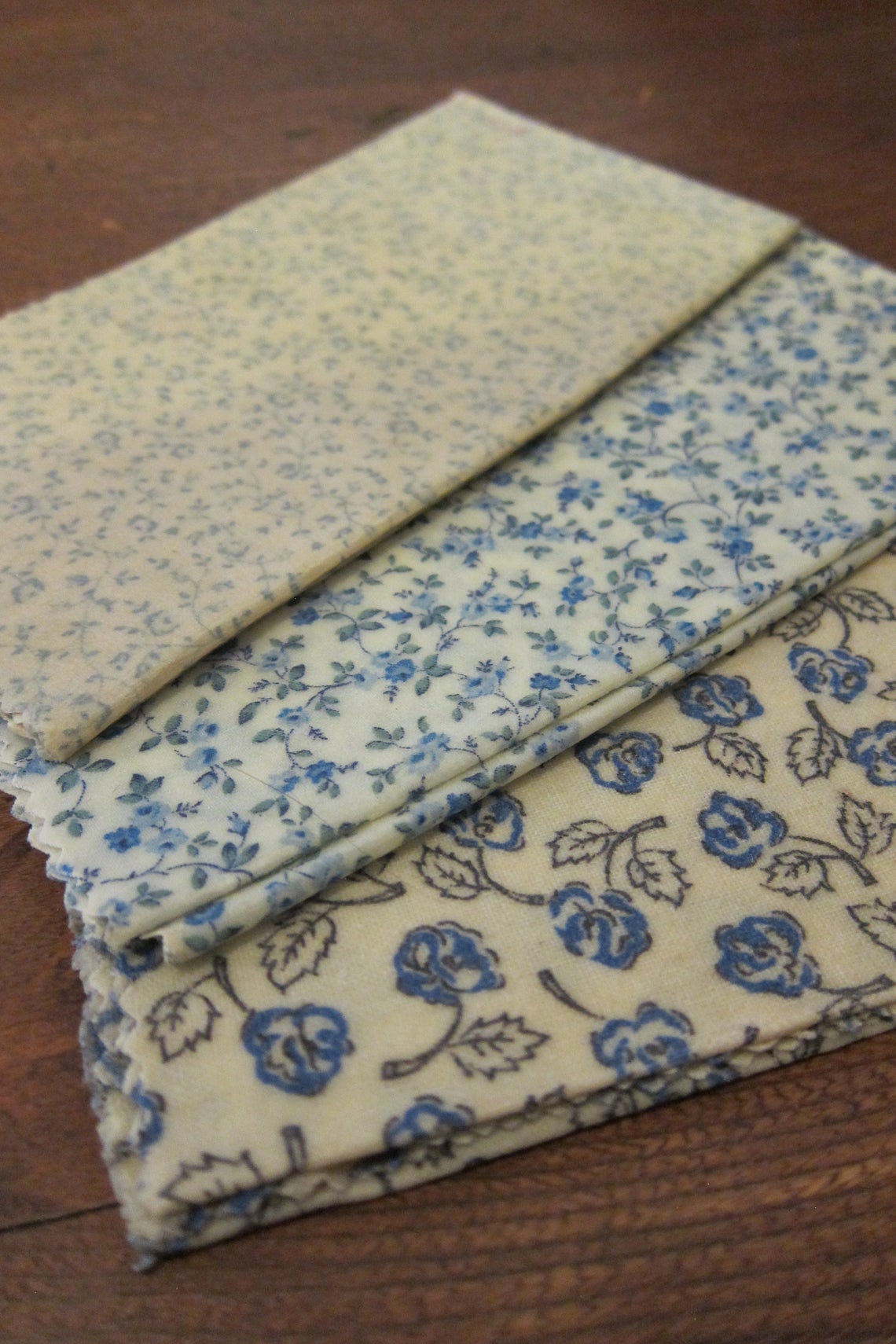 Both sponge and wrap come in a variety of patterns & colors. You'll find something to complement your tastes and decor.
Also, be sure to think about friends who are considering greening up their homes. Our Lemongrass Kitchen Soap with Fabric Sponge & Beeswax Wrap comes in a pinstriped kraft box with paper shreds and is finished with colorful twine. It's a perfect gift for a housewarming or any occasion and just might help loved ones kickstart their own path to an eco-friendly kitchen.